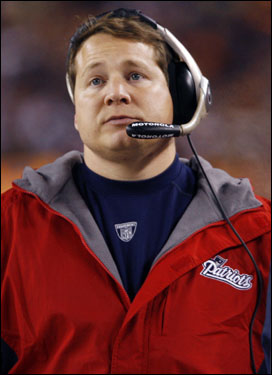 As you all may or may not know, I was not all too thrilled with the hiring of Eric Mangini (shown here in his true colors//controversial statement alert!) as Jets head coach earlier this year. I would have preferred the Jets hiring that guy with the gray mullet who coordinates the defense over there in Oakland.
Maybe the Jets should have hired that former Vikings coach, Mike Tice, who proves that brain power is inversely proportional to head size. I don't really know if Mangini was a bad choice (only time will tell), but with a rookie OC, DC, and GM, it would have been pretty ridiculous to think that the Jets were on track for a credible season.
Supposedly, the same type of second-guessing was going on in Foxboro, Mass, as the legendary father of a convicted pot smoker that is Bill Belichick supposedly told Mangini not to take the Jets job. You folks probably haven't forgotten that Belichick quit the Jets job after a day before jumping ship to New England.
Now, the animosity is showing between the two, as the veteran coach conducted a speech where he utterly refused to acknowledge Mangini's name, and opted to give credit to rookie players who were virtually unknown rather than to the rookie coach who served in every possible capacity with Belichick.
And though this story line is probably the easiest to pick up on, you have the other threads, like the Boston (Foxboro) vs. New York City (East Rutherford, NJ) matchup. Of course, there's also the question of whether or not Chad Pennington will be in tip-top shape coming off the IR. Or at least, that's what seems to be the storyline every week.
Of course, though, the New York Times has to take
a different angle
, one that preferably keeps their bunch of stodgy intellectuals as far away from the football field as possible. Accordingly, they ran their second or third story in about a year on Laveranues Coles' history of being sexually abused by his stepfather at gunpoint when a preteen.
This story even went further than the last one did, tying it in with comedian Tyler Perry's similar history, and then his oddly successful films (Madea's Family Reunion, Diary of a Mad Black Woman), and finally his new friendship with Coles. While I think it's very important for Laveranues to be happy, can't we just focus on football, at least the weekend of what might be the defining game for the Jets this season?
So, now, we've got a rivalry between two Wesleyan-educated coaches and a traumatic history of parental sexual abuse on print.
Anyone want to talk about the fact that the Jets are ranked 30th in the league (out of 32 teams) in run defense? Or about the fact that they're ranked 31st in the league in total defense? I guess the fact that Justin Miller gets torched on every play doesn't bother you guys in the press.
I guess nobody feels like discussing Chad Pennington's abysmal play of late. So on we go.
Prediction
: Jets 12, Patriots 24
---------------
I'll probably be back with you sometime this weekend if there's anything on the Rangers to talk about, or maybe if there's stuff on Glavine (who declined his option and is now a free agent) or on Daisuke.
See you then.
Crosstown Rivals is sponsored by JustGreatTickets.com, your home for Chicago White Sox Tickets.