Before launching into the recap, I just had a bunch of thoughts cross my mind about tonight's telecast and everything else.
-Do you get the feeling that the trivia writers got a bit lazy tonight and just decided to ask us to see if we were paying attention to Gary Cohen on either Sunday or earlier tonight?
-The SNY crew was at their funniest today. They poked fun at the hot water Keith was in earlier this year, quoted a memorable Seinfeld episode and told some other humorous anecdotes. Keep up the good work.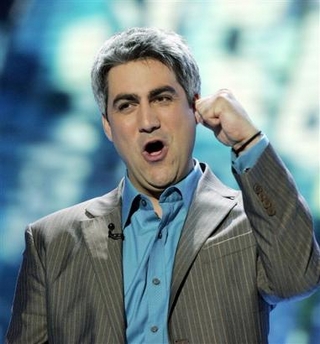 -Which commercials are more annoying? Taylor Hicks and the absolutely agonizing Ford "Possibilities" Commercials -or- the god-awful
Dr. Z Chrysler
commercials? I'm not sure if I can decide. I'm also going to say that I'm very sick of Chase Utley's hit streak. When he faces the Mets this weekend, we should walk him all but one time in the game. Or hit him. Then ask him how that hit streak is going.
-I know what Tom Glavine said to Mike Pelfrey. "Listen, kid, don't pitch too well tonight. You know why? I'm the weak link in this starting rotation and I deserve to get bumped. So please, just go away. Give some hits up. Please."
-The Wild Card standings that they showed are really depressing, with only Cincinnati and Arizona above .500 in the race. That graphic appears to be just a case for the abolition of interleague play. As far as I'm concerned, let's just play the Yankees for a series or two and call it a day. Come on.
-Lastings Milledge has, despite not even coming close to his arbitration years, become the Six Million Dollar Man. Or you could just call his right arm the first phase of RoboLastings. On another note, it's a good sign for him that he took two unintentional walks tonight. That's two more than he took during his entire previous call-up.
-Another spiked speedster by a Florida Marlin? Has Joe Girardi issued some orders?
---
Tonight was a tale of two tall, hard-throwing pitchers, both born in the Midwest during January of 1984. Pelfrey was very good and appeared to have good command of his fastball, which was sinking and running every which way. He made one bad pitch in hanging a slider to Hanley Ramirez with men on, but he buckled down and toughed it out, whiffing Miguel Olivo and Alfredo "Sauce" Amezaga with only a walk to ridiculously athletic Joe Borchard in between.
Scott Olsen, the baby-faced lefty with a firy temper, was even better. He got in some trouble early, but turned around and started striking the crap out of everyone, using his nasty slider and changeup and his deceptive left-hand delivery. He walked a few, but made big pitches in the fifth and sixth innings and impressed me greatly.
---
Gary Cohen, when Carlos Beltran came up to bat in the seventh against Randy Messenger, mentioned his 2-for-2 (with a homer and a double) line so far and used the words "Ho-hum" sarcastically. But Beltran has been anything but ordinary lately, and while his home-road splits somehow make me feel guilty, it seems he has become the class of the National League, with a 1.013 OPS coming into tonight's game. This number is due to Beltran's insanely good .628 slugging percentage. It's good for second best in the league, second to only some Pujols guy.
Did anyone think after that first homestand with the reluctant curtain call, we'd be saying National League RBI leader Carlos Beltran? He's #3 in the NL in home runs as well. The move which appeared to be a disaster last year has paid off very well for the Mets, as Beltran has been
en fuego
this entire month.
Beltran has also been carrying this team through slumps by Delgado, Wright, and the entire starting pitching staff. It is without question that he is head and shoulders above Jose Reyes and David Wright as the Mets' team MVP. While he probably will finish third behind Albert Pujols and (anti-NY media bias) Ryan Howard as the league MVP, he deserves a ton of credit for everything he's done this year.
On the whole, with Beltran's atrocious showing last year, resembling Aaron Rowand more than Andruw Jones, any success this year is a breath of fresh air. Those who whispered he was faking injuries to produce excuses, à là everyone under Art Howe,
---
The Mets saw the first of their new-look set-up corps tonight.
Six up, six down. Nice work, ChadBrad. Keep it up, Heilman. We need ya, kid.
The loss of Duaner Sanchez, while it obviously won't affect the Mets' chances of making the postseason, could potentially be crippling in the postseason. Heilman's got a chance to step it up in what could be his last few months in a Met uniform.
Should he manage to pitch well, the Mets could try and flip him to start on a young team while moving Henry Owens and Royce Ring into next season's pen.
Another closer-caliber reliever would be nice too. Why?
Because Wagner sucks.
I don't mean that, but he hasn't been the pitcher he was last year and that was pitching in a smaller park on a worse team. I'm not going to really stick a fork in on either side of this, but everyone's human (except RoboLastings, who bleeds Mercury) and Wagner might just be a little more human this year than B.J. Ryan, Jon Papelbon or Mariano Rivera. He's still been the third-best closer in the NL this year, behind two people who we could have signed as free agents last offseason instead of him: Trevor Hoffman and Flash Gordon.
This is a good little aside on the value of insurance runs. When the Marlins got that leadoff man on, the Mets' chances of winning, while still in their favor, decreased dramatically because the lead was one run. I won't blame Carlos Beltran for grounding into a double play with the opportunity to score some more, but the Mets definitely blew a few late chances (Julio, I'm looking your way) and those, maybe even more so than Wagner's, were responsible for the loss.
Tough day. I'm not going to invoke the names of Braden Looper, Armando Benitez or John Franco, but suffice it to say we will all be intently watching what Wagner does in his next few appearances.
It's the friggin Marlins. You can't blow a save against the Marlins. Although I'm ninety-five percent facetious in saying this, the lead is down to 13 games.
---
Good Met of the Game
: Carlos Beltran 2-4, 2B, HR, 2 RBI
Bad Met of the Game
: David Wright (0-4, 3 K, 4 LOB)/Billy Wagner (L/BS, .1 IP, 2 ER)
-I think I'm going to keep this feature up. Recommendations for other things?
Crosstown Rivals is sponsored by JustGreatTickets.com, your home for Chicago White Sox Tickets.